Ella Joosten Visual Artist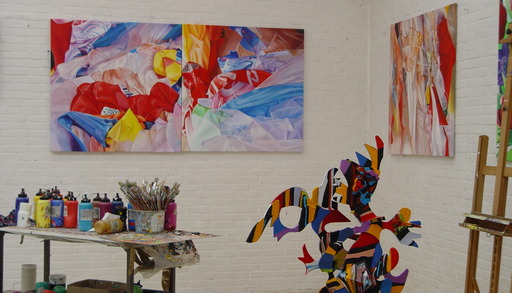 The dutch contemporary art painter Ella Joosten lives and works in Eindhoven, in the South of The Netherlands. After having been schooled in miscellaneous art studies, Ella Joosten has worked as a professional visual artist since 1989.
In the course of the years she has grown into a significant, multifaceted artist, and her work has shown at various exhibitions all over the globe and were reproduced in several books, art catalogues, and art magazines.
The paintings of Ella Joosten have a strong appearance. They are energetic, humoresque, and full of bright colours. Her art is fresh, and cannot abstain from a certain magic. Although she likes multiple styles, both her earlier abstract paintings, and her current figurative style fit expressionism quite well. In her large art studio she creates acrylic paintings and mixed media in different formats suited for homes, offices, big meeting rooms, and other public places. Also she designs personal business gifts and small art objects.
By Raquel Contreras curator/publicist based in NYC
"Each piece culls directly from nature replete with a humanistic narrative and unique style. Using an amazing array of colors, shadows and contrasts - the light-filled paintings express a range of emotion that stimulate the eye and the mind. Her work is fresh and contemporary."